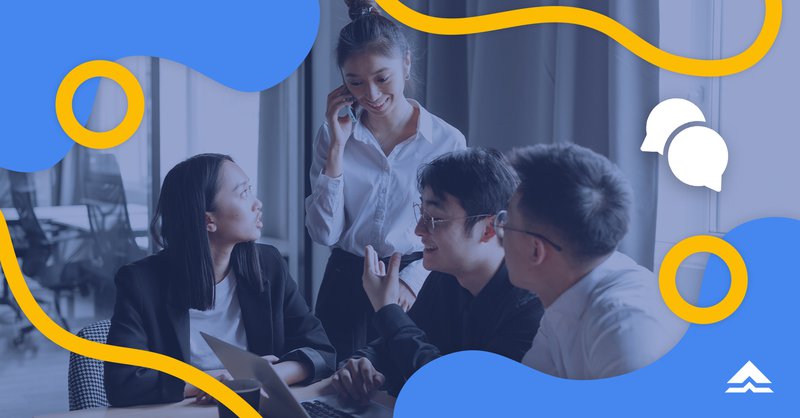 From print to social media, the media and communications industry has always been evolving with the needs of the time. Pero hindi nagbabago ang pangunahing layunin ng industriya. That is, being able to effectively deliver a clear message to an audience, while using the right medium.
If a communications career sounds like something you'd want to pursue in the future, you need to equip yourself with the right skills. To help you become a better communicator, start by learning these 5 essential skills:

1. Active Listening Skills: Making meaningful engagements.
The media and communications industry is all about producing content and conveying information. You need active listening skills to make meaningful and engaging content! This includes paying attention, being open, and expressing empathy as a communicator. This will help you in many situations, whether you're brainstorming with a team, being out for field work, or making digital content.
Tips to develop your active listening :
Give your undivided attention in class.
Things don't always make sense the first time you hear them, so be patient and ask questions when this happens.

2. Media and Technology Literacy: Communicating in the digital realm.
Almost everything can be done online now. Using certain apps, knowing how to use your computer, and knowing how to process information comes with the job of being a good communicator in this day and age.
Tips to improve your media and technology literacy:

3. Research and Writing Skills: Being a lifelong learner.
Since writing is a big part of the industry it's crucial to have good research skills, too. Hindi ka mauubusan ng pwedeng isulat sa media and communications field. Mula entertainment hanggang sa news! It's all about knowing the vocabulary, goal, and audience of what you're writing about. Research skills will help you write those story pitches, news reports, social media captions, and more while making sure you have the facts straight.
Tips to develop your research and writing skills:
Read widely and read deeply. Walang shortcut pagdating sa pagbabasa!
Learn how to fact-check information.

4. Cultural Awareness: Learning language and culture.
Grammar and word usage varies across different cultures. Case in point: binabasa mo ang article na ito in Taglish! The Philippines itself has many cultures within it, and all with different usages of words in English, Filipino, and other languages. A word may have a different meaning in another region or country. That's why it's important to know your audience from a cultural perspective.
Tips to improve your cultural awareness:
Talk to a lot of people and hear their stories. It can be a classmate coming from a different island in the country or in a foreign country altogether. Don't be shy!
Watch and learn from foreign and regional films.

5. Interpersonal Communication Skills: Reading non-verbal cues.
Bukod sa pagsasalita, there's a lot that goes on when it comes to interacting with people. It's been said that most of what we communicate is non-verbal. Kasama dito ang appearance, body language, tone, and voice modulation. In short, even when you're not speaking, you're still saying something. Whether you're delivering a presentation or speaking for a video campaign, mastering interpersonal communication skills will make you an effective communicator.
Tips to improve your interpersonal communication skills:
Get to know your body language, and learn how to control it.
Learn from experienced public speakers. You can start with your professor.
As an aspiring media and communications professional, it's important to develop the skills needed to be an effective producer and consumer of different kinds of media and information. But your journey begins by getting the quality education you deserve.
Worry less about the finances and focus more on your studies by applying for an affordable student loan. Bukas can cover up to 100% of your tuition and other school fees in college or graduate school, while you pay us back in monthly installments. Handa ka na ba maging news anchor, writer, or media practitioner? We know you can do it!

Learn more about how we make education affordable for thousands of Filipino students like you. Download the Bukas app on Google Play today! Kung gusto mo maging updated with our latest content and updates, you can connect with us on Facebook or reach us anytime via email!

Written by: Bea Salcedo