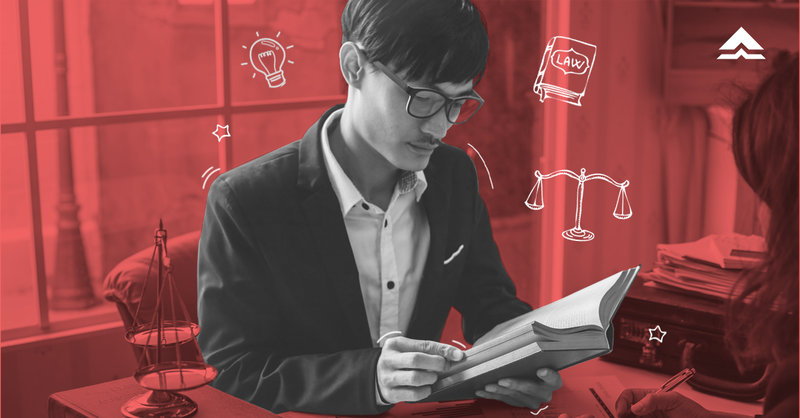 Laws are essential for keeping peace in order in society. Throughout our nation's history, legal practitioners have been responsible for advocating justice, and the very nature of their work makes them very prominent figures in society.
Understandably, having a lawyer in a Filipino family or household is quite an honor, pun intended. The difficulty of the field instantly makes anyone who successfully passes the bar exams the pride of their parents, and in some cases, a local neighborhood celebrity. But setting glamor and prestige aside, becoming a lawyer is a noble calling where you get to help others.
If you're still undecided about what course to take in college, we're here to help! Kung gusto mong makatulong sa bansa at sa kapwa, a career in the legal field may suit you well. This guide will discuss the benefits of working in the legal profession.

1. It's an intellectually challenging profession
Different laws govern our country, making law an exciting and intellectually stimulating field of study. Laws are constantly evolving as our nation progresses, and those looking to take up law as a profession will have plenty of learning opportunities.
It's no secret that you will be immersed in challenging subjects in law school. While these may push you to your limit, the professors you'll meet and the recitations you'll take will prepare you for success. Even after you graduate from law school, continuously studying will be necessary to excel in the field.
Take a look at our handy guide to learn more about the best pre-law courses you can take!

2. You'll have plenty of career options
A legal career is not limited to being a lawyer. Criminal law, employment law, family law, products liability, and other practices are available to legal professionals interested in a career in litigation. Meanwhile, those interested in corporate law can specialize in tax law, mergers and acquisitions, real estate, finance, and more.
Lawyers are always in demand, no matter the economic state, making it a "recession-proof" career choice. Not to mention, law graduates are also sought after in various fields, including media, academia, commerce and industry, social work, and politics.
Curious about the legal careers you can choose from? Check out these legal careers you can take with a law degree.

3. You'll become a champion of justice and human rights
Starting a career in law requires a strong dedication to upholding justice. As you go further into your career, the expertise you've developed will enable you to serve others and create a positive impact on society. Your zeal for service will turn you into a champion of human rights.

4. You can enjoy financial stability
Obtaining a law degree does not guarantee financial success, but it comes close. In all honesty, mataas ang posibleng sahod at job security ng mga abogado. According to Payscale, it's estimated that lawyers in the country earn over PHP680 000 annually. Apart from working on court cases, they're able to acquire this sum through consultations, notary services, and more!
Here in the Philippines, lawyers can receive various forms of payment if cash is not immediately available. From credit, titles, and assets to properties and even animals like kalabaw or livestock—kambing, manok, baboy, etc.—payment for lawyers come in whatever form clients are willing and able to pay.

5. You get to be challenged in a dynamic environment
The professional practice of law is constantly changing and evolving. Legal professionals must be problem-solvers and innovators, ready to take on new responsibilities, face unique challenges, learn new technologies, and navigate an ever-changing legal system. This landscape adds variety to each day and fosters an enjoyable, fulfilling work environment.

6. Helping others is extremely rewarding
Whether you are a legal consultant for a multinational corporation, a paralegal assisting women and minority groups, or a clerk researching tax laws for a start-up, the primary goal of the legal profession is to help others resolve their legal problems. Upholding the law, assisting in solving cases, and making a difference will be a rewarding career path regardless of your legal specialty.


A legal career can be intellectually stimulating, personally fulfilling, and financially rewarding. If you want to pursue legal studies and venture into various law careers but are worried about the finances required to go through all of those years of study, wag kang mag-alala! Bukas has partnered with leading law schools in the country, offering tuition installment plans for aspiring legal professionals like you. What are you waiting for? It's time to make your dreams happen with Bukas!
Learn more about how we make education affordable for thousands of Filipino students like you. Download the Bukas app on Google Play today! Kung gusto mo maging updated with our latest content and updates, you can connect with us on Facebook or reach us anytime via email!