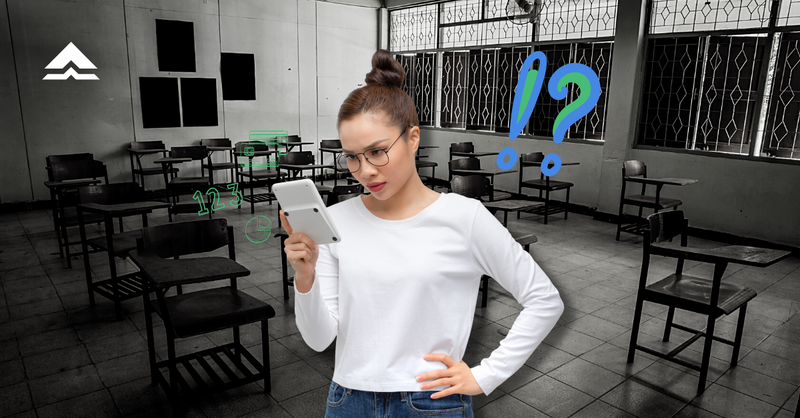 There's always that one student in class who asks (read: complains) kung bakit pa kailangan aralin ang mga subjects like algebra and calculus in school. Para saan nga ba? Paano ba makakatulong ang paghahanap ng 'x' and 'y' sa buhay?
While studying these lessons will definitely help get your grades up come finals week, that usual sentiment alone is a good reminder on the importance of teaching practical and useful skills that students can use in their everyday life. This learning gap is especially evident pagdating sa finances.
Based on recent studies conducted by the World Bank and the Bangko Sentral ng Pilipinas (BSP), only 2% of Filipino adults answered the questions about financial literacy correctly. The good news is we can do something about this. In the same report, level of education has been strongly linked to higher financial literacy scores. May pag-asa!
While we're still a long way from equipping every Filipino to be financially literate, pwede mo nang simulan ang pagkatuto habang estudyante ka pa lang. We've listed down some basic financial skills you'll find helpful someday that hopefully find its way to your classrooms today. (Tag your math teachers!)

1. How to save and budget money… wisely
Whether you're a student receiving weekly allowances or a fresh grad earning your first salary, you need a budget. Read those last four words again. Learning why you budget is equally important as the how. And it's even more important that you learn it the earliest possible a.k.a. habang nag-aaral ka pa lang. You're never too young to have a budget!
When you know how to manage a Php 10 or Php 100 allowance, trust that you'll know (or at least have an idea) what to do when you have more money kapag kumikita ka na. Kahit isang milyon pa 'yan!

2. How to calculate for discounts
Economists like to say that 'there is no such thing as free lunch.' To that we say discounts aren't half as bad. Ang tanong, alam mo ba kung magkano ang natitipid mo with a particular discount? O mas napapamahal ka ba? Is it even worth it to buy things on sale?
It may be common sense for some people, but a lot of students actually need help in this department. A quick lecture about deals and discounts can help students become better consumers, with or without a sale. We're 100% sure about it!
PS. Alam mo ba ang mga perks and discounts na meron ka as a student? Valid student ID or email address lang ang puhunan, no grades required. Check out our guide!

3. How to compute for income tax
Whether you realize it or not, you pay taxes. Yes, kahit estudyante ka pa lang! It comes with every purchase or service you avail. When you get the job of your dreams, dito mo na mas malalaman ang other forms of taxes like income tax. This is the amount deducted from your salary pagkatapos ibawas ang other social security contributions mo tulad ng SSS, PhilHealth, and Pag-Ibig fund.
While some companies file it on behalf of their employees, other professionals like freelancers and business owners have to manually compute and pay for it themselves. Wouldn't it be better to learn it today in school bago pa dumating yung time na yun?
If you're interested to learn more, check out this tax calculator from the Department of Finance (DOF). May FAQ section to answer some questions you may have!

4. How to open a bank account
According to a World Bank survey, a lot of Filipino adults save money. That's good, right? Pero alam mo bang only a half of them have bank accounts? Bukod sa financial capacity to open an account, study shows that people also lack trust and knowledge about banking in general. This is something we can effectively address through education.
Ano ang benefits ng banking? Why should you keep money in the bank instead of a vault at home? How do you open a bank account? Can you create an account kahit estudyante ka pa lang? All of these questions are important questions we should be talking about in class. When students like you are well-informed, trust and confidence will follow.

5. How to apply for a loan
Ano ang una mong naiisip kapag sinabing loan? If you're like most Filipinos who are scared of debts, it could probably be more bad news than good. Ayaw natin ng utang. And tbh, that's a good mindset to have! But understanding what loans are and how it works is even better. Who knows, it can even save you in times of financial need.
When you realize that not all debt is bad, good debts like student loans, for example, become an opportunity to make ends meet instead of a debt trap waiting to happen. That said, if you need help in paying your tuition for the next semester, may Bukas para sa'yo! We have a comprehensive Help Center so you can ask anything and everything you need to know about our tuition installment plans.
The more you know, the better decisions you can make. Gusto natin 'yan!

6. How to negotiate for a salary raise
Next to getting past the first interview, there's nothing more nerve-wracking for professionals than asking your (potential) boss for a better pay. According to Salary.com, only 37% of people negotiate their salary while 18% don't even try. Sa totoo lang, marami talagang ganun! They know their worth as a professional and they need extra compensation pero nauunahan sila ng takot. You don't have to be like that.
Mapa salary increase o promotion man 'yan, we're convinced that every student should be taught how to advocate for themselves before they join the workplace. While you're still in school, build the skills you need for the pay you want. Some students like those in business and communication courses may develop these skills as part of their programs, but there's no stopping you from being a pro at it. Kaya mo rin 'yan!

7. How to grow money through investments
Last but not least, we cannot overemphasize this enough: students should learn the basics of investments. Financial literacy isn't all about budgeting and saving. It's also growing your money and setting financial goals for your future. Kahit na wala ka pang isang milyon ngayon, just thinking of making your first million is a good first step!
Now, the questions of where and how to make that happen are better discussed in detail. As a student, wala ka pa mang financial capacity to invest in stocks, bonds, or mutual funds, you can invest your time and energy in understanding these concepts. When the time comes that you're financially ready, alam mo na ang gagawin mo.


Financial literacy is an important skill every person must have. The goal is not to be the richest person in the world but to be rich in knowledge that will allow you to make the best financial decisions for yourself. All this to say that education is still one of the best investments we can make for our society.
If we want to promote financial literacy among Filipinos and raise the survey score from 2% to 100%, we should start teaching these basic financial skills in high schools and colleges. After all, it's where the next consumers, investors, and financial leaders are learning and building habits they will use for their future.
Learn more about how we make education affordable for thousands of Filipino students like you. Download the Bukas app today on Google Play! Kung gusto mo maging updated with our latest content and updates, you can connect with us on Facebook or reach us anytime via email!