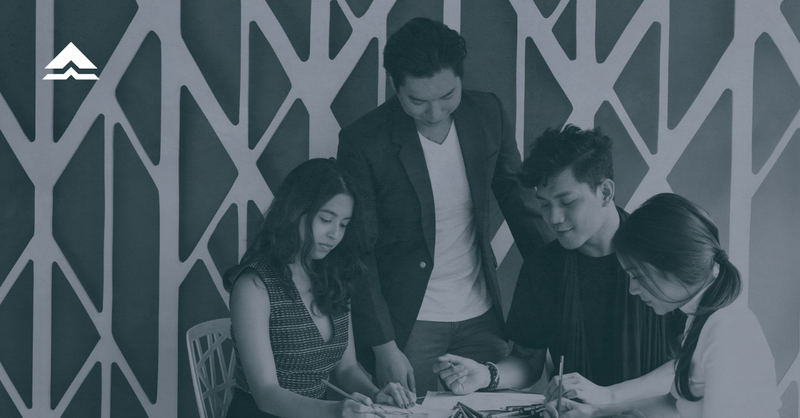 There is no perfect school. Only schools excelling in certain fields better than others. And the SoFA Design Institute has definitely owned the spotlight in design education. It is, after all, the Philippines' first specialized design college. Since 2007, the Institute has quickly become a breeding ground for up-and-coming designers locally and abroad. If you've always wanted to be one, SoFA Design Institute isn't probably a new name to you at all!
While pursuing a creative career remains to be a question of 'passion versus practicality' in a country that widely celebrates doctors, lawyers, and engineers (read: we celebrate you too!), the past decade has slowly but steadily opened doors of opportunity for young Filipino talents to create and take up their space in the digital era. With SoFA Design Institute's recently launched partnership with Bukas, the students can now weave passion and practicality. Here's how.

A partnership designed for students
Taking up a design course is a creative path. But it's also often a costly one. While tuition remains to be a top concern for students when deciding to pursue any course, it's especially true for those in the visual arts. That's where Bukas comes in!
As a partner school, incoming and currently enrolled students at the SoFA Design Institute can pay for their studies through a Bukas tuition installment plan. With this new payment option, paying for a semester can be stretched over a longer period of time.
What is a Bukas tuition installment plan?
A Bukas tuition installment plan, or simply a student loan, is an affordable and flexible way to pay for your tuition and other school fees. When you enroll at SoFA Design Institute through an installment plan, Bukas can cover up to 100% of your tuition for the semester while you pay back the amount in 12 monthly installments.
Take note that every installment plan comes with a flat interest rate starting at only 1.25% monthly interest. Don't worry, no service fee for SoFA students!
Why pay your tuition at SoFA with Bukas?
Paying for tuition and other school-related expenses can be a lot when you do the math. Art supplies, design tools, and occasional immersion trips are to be factored in to your expenses every semester. With Bukas, your studies can now be more affordable on a monthly basis. There are flexible payment options, too!
If ever you want to pay off your tuition installment plan earlier than 12 months, you can do that without worrying about any early termination fees or other penalties. Bukas will only charge interest for the months you consume your student loan.
How does the Bukas tuition installment plan work?
When you apply and get approved for an installment plan, Bukas will pay your tuition directly to SoFA Design Institute. You will then have to pay your Bukas monthly dues for 12 months. For example, if you need Php 50,000 tuition for next semester, you can get an installment plan from Bukas and pay only Php 4,792 every month.
If you're interested to know an estimate based on your actual tuition at SoFA, you can try to apply and we'll provide a quotation prior to submitting your application.
What are the requirements for a tuition installment plan?
All SoFA students are welcome to apply for a Bukas tuition installment plan. Whether you're taking a degree program or a short course, in your first semester or the last, you may apply as long as you meet these following minimum requirements:
be a Filipino citizen and at least 18 years old
have their SoFA student ID or any government-issued ID
have a physical or digital copy of their assessment form
have a guarantor at least 21 years old with proof of income (working-students can become their own guarantor)
To better prepare for your requirements, check out our complete list of accepted valid documents. Make sure it's correct, complete, and accurate!
How can SoFA students apply for a tuition installment plan
Applying for a Bukas tuition installment is easier than creating your first draft. Kidding aside, our fully online application process can be done in these six steps:
Step 1: Register and complete your profile via the Bukas app or app.bukas.ph/register
Step 2: Fill out and submit the application form. Wait 2-3 working days to get feedback from our team via SMS or email. Note that you may be asked to provide additional information via email. Make sure you submit these as soon as possible to avoid delays in processing your application.
Step 3: Complete your verification interviews with a Bukas representative. Once done, wait for the results to be sent via SMS or email.
Step 4: Once approved, log in to your Bukas account and confirm your application.
Step 5: Once confirmed, Bukas will deposit your full amount directly to SoFA. You'll receive an SMS once it's disbursed. It will also reflect on your Bukas account after 1-2 working days.
Step 6: Study hard and pay your Bukas monthly dues at any of our payment partners.

Create all year round with Bukas
One of the many perks of studying at SoFA Design Institute is the wide range of courses you can take the whole year. The good news is they're available for both SoFA and non-SoFA students. How's that for creative learning opportunities?
Aside from degree offerings in Interior Design and Fashion Design and Marketing, young creatives can also choose from various certificate and short course programs like fashion media, clothing technology, and lighting design. A true creative playground for future designers! Which one are you taking first?
Whatever you pick, Bukas has got you covered with full or partial tuition coverage anytime throughout the year—not just during enrollment season. Simply put, it really depends on you! For instances where you need additional funding for school, you can even apply for multiple installment plans.

Pursue your dream career, the SoFa method
Studying design may not yet be a popular choice in the country, but it's a perfect fit for aspiring creatives who want to push the boundaries of design, both in the Philippines and abroad. The Institute's "SoFA Method" educates and empowers students to do just that.
With a design-focused education and a strong network of partners, you can get firsthand experience in real-world projects and get exclusive career opportunities even before you leave the Institute. Talk about student support!
What the "SoFA Method" actually means for students:
"Panel Critique" - students are taught to understand their work and design process
Extracurricular activities - students get exposed to industry projects and events
Brand collaborations - students get tapped by local and global fashion brands like Bayo and Zumtobel to name a few
Internship and placements - students are given access to SoFA Design Institute's wide network
Global exposure - students get opportunities to join immersion trips and study abroad
Like every creative project, it only takes one stroke to get started. And then taking the next ones until you get it done. So is your creative career! Taking a course at SoFA Design Institute may be the first step you need to take to get started on your dream. With your creativity, the Institute's expertise, and our financial assistance, there's no stopping you from creating the future you've always dreamed of. What are you waiting for? Take a step today!
Learn more about how we make education affordable for thousands of Filipino students like you. Download the Bukas app on Google Play today! Kung gusto mo maging updated with our latest content and updates, you can connect with us on Facebook or reach us anytime via email!