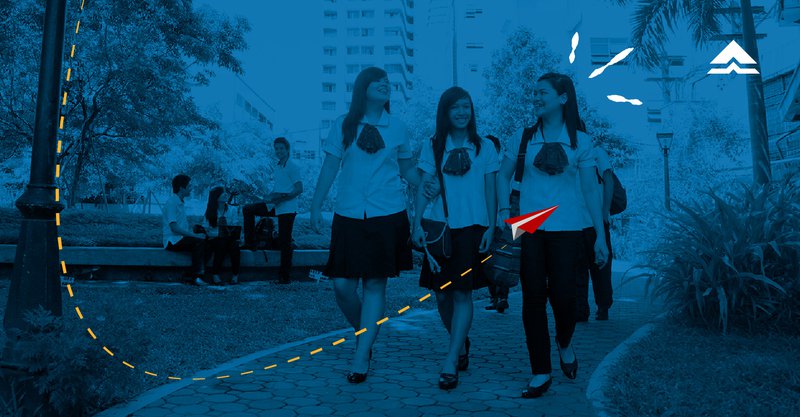 The University of the East (UE) is one of the well-known universities in the Philippines, with campuses located in Caloocan and Manila. Before the year ends, UE marks its 75th anniversary with another milestone: a new, flexible tuition payment option for UE warriors! Through its partnership with Bukas, prospective students can now pursue their dream course through affordable tuition installment plans.

Fueling bright futures
No dream is too big, and expenses shouldn't stop you from achieving them! Through this partnership, UE and Bukas offer you a tuition installment plan for your tuition and other school expenses every semester. With this new payment option, you can stretch your budget and pay for tuition over a longer period than the usual one-time payment.
Incoming and current students of any undergraduate and graduate program in the Manila and Caloocan campus can finally avail of this payment option this coming semester at no minimum grade requirement too!
Here's what you need to know about the Bukas tuition installment plan:
What is a Bukas tuition installment plan?
A Bukas tuition installment plan is a safe, secure, and flexible way to pay for your tuition. When you enroll in your chosen course, we can cover up to 100% of your tuition for the sem while you pay back the amount in 12 monthly installments. Our installment plan comes with a flat interest rate starting at only 1.55% monthly and with no service fee!
You can also opt to pay off your installment plan in less than 12 months without any early termination fees or other penalties. You also don't have to worry about the interest because we will only charge you in the months you consumed your plan. For instance, if you finished paying your 12-month tuition installment plan within three months, you only need to pay the interest for the three months. This way, you can budget your finances better for your school and extracurricular activities!
How does the Bukas tuition installment plan work?
When you apply and get approved for an installment plan, Bukas will pay your tuition directly to UE Caloocan or UE Manila. You will then have to pay your Bukas monthly dues for 12 months. For example, the tuition for the coming semester is at around Php 40,000. Through the Bukas student loan, you'll only need to pay Php 3,954.00 every month for 12 months.
You can check your monthly balance through your Bukas account accessible via the website or through the Bukas app.
How to apply for a Bukas tuition installment plan?
Bukas offers a fully online process to make it easy, convenient, and safe for you. Make sure to have all the complete and correct requirements and documents ready, and follow these five easy steps:
Step 1: Register and complete your profile via the Bukas app or app.bukas.ph/register
Step 2: Fill out and submit the application form. Our team will get back to you after 2-3 working days via SMS or email. Note that additional information may be asked from you via email. Make sure to submit these as soon as you can to avoid delays in your application process.
Step 3: Once approved, log in to your Bukas account and confirm your application.
Step 4: Once confirmed, Bukas will deposit your full amount directly to UE Caloocan or UE Manila. You'll receive an SMS once it's disbursed and it will also reflect on your Bukas account after 1-2 working days.
Step 5: Study hard and pay your Bukas monthly dues on time at any of our payment partners.

Your tomorrow begins with Bukas and UE
Ready to walk along the halls of your dream university but unsure of your course yet? There are questions you can ask yourself before choosing your course. Or you can compare your options to see which fits you best. What's for certain is that financial struggles no longer have to be a hurdle because with UE and Bukas, #AngBukasMoSigurado.
Learn more about how we make education affordable for thousands of Filipino students like you. Download the Bukas app on Google Play today! Kung gusto mo maging updated with our latest content and updates, you can connect with us on Facebook or reach us anytime via email!