DragonPay is an online payment platform that allows Bukas users to pay for their tuition installment plans. Now, they can use their online banking facility or pay cash over-the-counter at physical retail channels. DragonPay automatically monitors the online and offline payments and notifies Bukas of a completed payment so we can credit it to your agreement.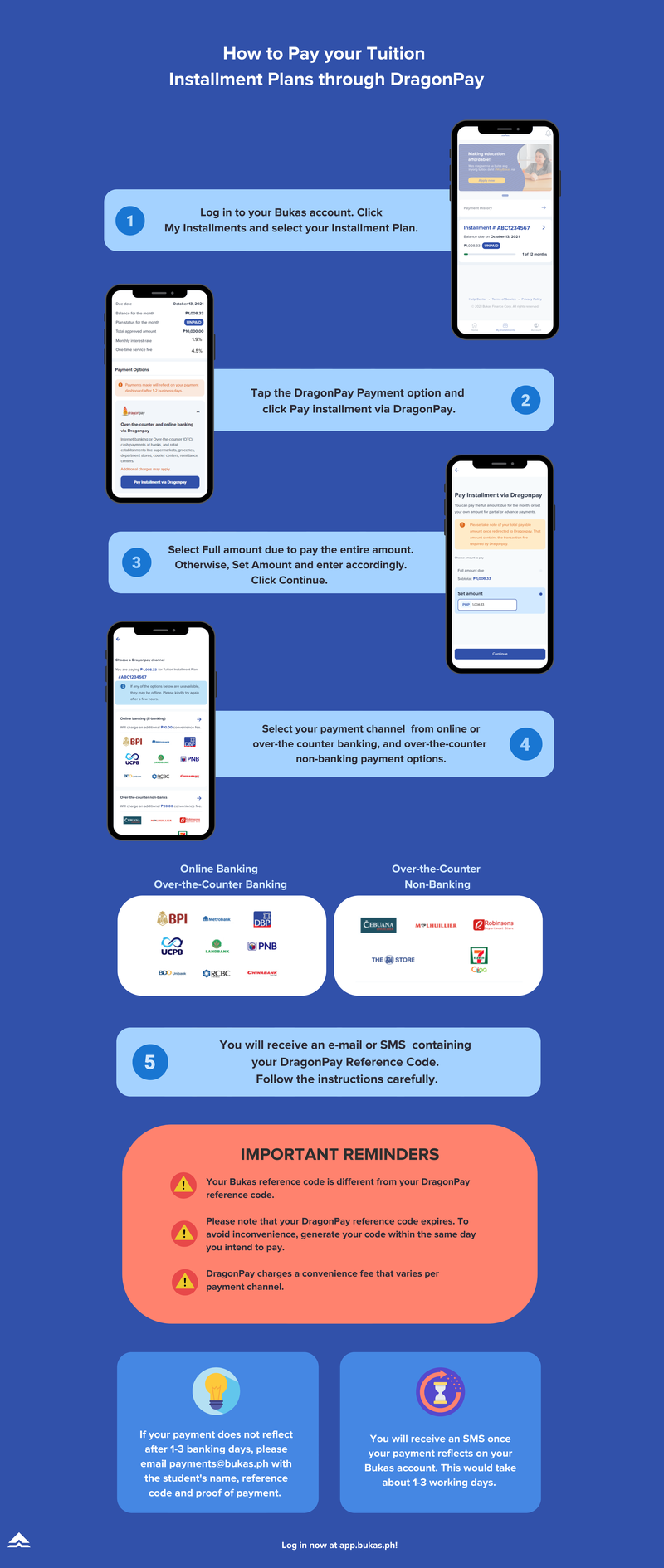 Steps on how to pay using DragonPay are below:
Log in to your Bukas account and click on the "My Installments" tab. To log in to your Bukas account, click here. Please note that you can only track the payments and installment details using the account where the application was done.
Select "Pay installment via DragonPay" from the list of payment options. If you prefer to settle your full monthly repayment select "Full amount due" otherwise choose "Set amount" if you want to pay a different amount.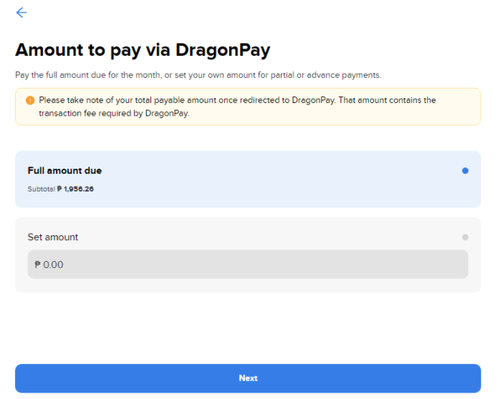 3. Select your preferred payment channel. Choose from online banking, over-the-counter banking, and over-the-counter non-bank payment options

Settle your payment by following the step-by-step instructions provided by Dragonpay. Please kindly read the instructions carefully to avoid errors in processing your payment. Kindly keep your deposit slip and wait 1-3 working days (this excludes weekends and holidays) for the amount to reflect on your Bukas account.

Below are the Dragonpay payment channels that accept payments for Bukas installment plans. Kindly note that exact processes and transaction fees may differ for each bank. If any of the options below are unavailable, they may be offline. Please kindly try again after a few hours.



BANKS (for online and over-the-counter payments)
Asia United Bank (AUB)
Banco de Oro Unibank (BDO)
Bank of the Philippine Islands (BPI)
China Banking Corp./Chinabank
EastWest Bank
Land Bank of the Philippines
Maybank
Metrobank
Philippine National Bank (PNB)
PS Bank
Rizal Commercial Banking Corp. (RCBC)
Robinsons Bank
Security Bank
NON-BANK FACILITIES(for over-the-counter payments)
7-Eleven
Cebuana Lhuillier
CVM Pawnshop and Money Changer
M. Lhuillier
Palawan Pawnshop
RD Pawnshop
Robinsons Department Store
SM Bills Payment
USSC

E-WALLETS (for online payments)
Bitcoin/ Ethereum/ USDT/ BinancePay
Coins.ph Wallet

Frequently Asked Questions:

Where can we get the reference code that we need for Dragonpay?
This reference code is generated by Dragonpay. Kindly note that this is different from your Bukas reference code. Please kindly follow the instructions for Dragonpay carefully to avoid payment concerns.


How much are the fees when using Dragonpay?
Depending on the payment method selected, there will be an additional convenience fee for using Dragonpay. The Dragonpay payment instructions will declare the fee. Please read these instructions carefully.


What is a "convenience fee"?
A convenience fee is a small fee charged by Dragonpay for using their payment platform. It will be charged for every payment transaction done with Dragonpay and shall be paid by the user/student. For example, if the convenience fee is P10 per transaction and the borrower's monthly due is P3,025, the user will be charged a total of P3,035 when using a Dragonpay channel.


What happens if I forgot to pay for the convenience fee or service charge while using an online banking application supported by Dragonpay?
In case you don't pay for your convenience fee, your payment will not be successful and will not reflect in our system. So, make sure that you follow the exact amount to be paid on the payment instructions sent by Dragonpay.


What if I was supposed to pay PhP3025.00 this month to complete my monthly due but I accidentally paid PhP3020.00. I paid for the PhP3020.00 via Dragonpay. Can I pay for the remaining PhP5.00 by using Dragonpay again on the same day?
Yes, you may use the Dragonpay payment option more than once within the day. However, please take note that there is a convenience fee for every Dragonpay transaction so please ensure that your balance is exact by checking your Bukas account.


I have a pending payment via Dragonpay. Does it have an expiration or can I pay anytime?
Yes, this pending payment can expire. Please look for the "Deadline" declared on the payment instructions. Once past the deadline, the transaction will expire and you must create a new transaction by logging in to your Bukas account and selecting Dragonpay again.


I paid via Dragonpay already but my account is not updated yet.
You will receive an SMS once your payment reflects in our system. This would take about 1-3 working days (excludes weekends and holidays). You can also log in to your Bukas account to check out your payment dashboard! If payment still has yet to reflect, please email

[email protected]

with your full name, reference number, and proof of payment attached.


I tried to pay using Dragonpay but my payment was denied.
Make sure you paid the correct amount and also entered the correct reference code. If you continue to have issues, send us a message or you may reach out to DragonPay directly.


I tried to pay with Dragonpay but did not receive any email instructions.
Make sure the email you provided is correct. If so, check the SPAM folder of your email to see if the instructions were sent there. If not, contact Dragonpay directly.


I tried paying using Dragonpay but I can't find my preferred payment channel.
If your preferred channel is not available, it may be offline. It would be best to select an alternative channel to avoid payment delays and penalty fees. You may also use any of Bukas' other payment channels found here


My payment was not successful. Can I request for a refund from Dragonpay?
Refund requests must be received by Dragonpay within 30 days from the date of deposit or payment. To process your refund, see here. Once the refund request has been made, you will receive an email confirmation. Kindly send this to us at

[email protected]

. For any concerns, feel free to contact us. Kindly allow 14 working days for the refund to be processed.


Other reminders for Dragonpay Payments:
For safety reasons and to avoid online fraud, please do not share your card number with anyone. Dragonpay may ask for an image of your ATM Card for your refund request. Kindly cover your 16-digit card number at the front of your ATM and the 3-digit CVV number at the back of your ATM. Only show your name and account number.
In connection with refund requests, Dragonpay does not issue cash refunds for pick-up or for door-to-door remittance. These will be deposited to select banks and may have handling fees which will be deducted from the total refunded amount. For more information, click here.

If you have any further clarifications, you can send us an email at [email protected] or schedule a call with us here.