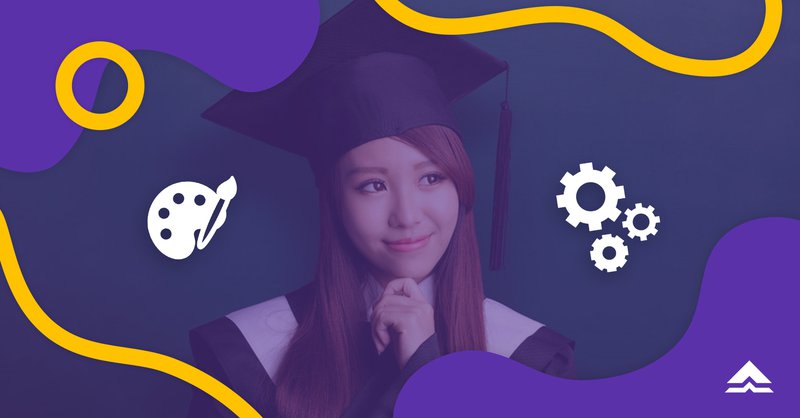 Ang hirap mag-decide ng tamang graduate program para sa 'yo. Choosing a grad program involves so many factors, including tuition costs, schedules, and career goals.
If you rush into your decision, baka mapadpad ka lang sa grad program na hindi pala aligned sa skills at passions mo. Many students quit graduate studies due to burnout, changes in plans, and other factors. Sabi sa isang study, 50% of doctoral students drop out of graduate school, and another one says 12% of master's students quit their graduate programs.
By choosing a field you're genuinely passionate about, you improve your chances of completing your graduate studies. This way, you can be confident in the graduate program you choose for yourself. Consider these 4 guide questions while choosing your grad program.

1. What are my skills and interests?
Ibang level ng commitment ang kailangan sa graduate school. Expect constant peer reviews and rigorous writing requirements. Graduate studies will only be extra hard 'pag hindi ka interested sa program na kinukuha mo.
Make sure all your hard work will be worth it! You should find the sweet spot between your skills and interests. The confidence-passion matrix, inspired by author Tina Seelig, can help you learn about yourself as you map out your post-grad plans.
First, fill out each quadrant in the confidence-passion matrix. Ask yourself what skills, subjects, and activities fall under each quadrant.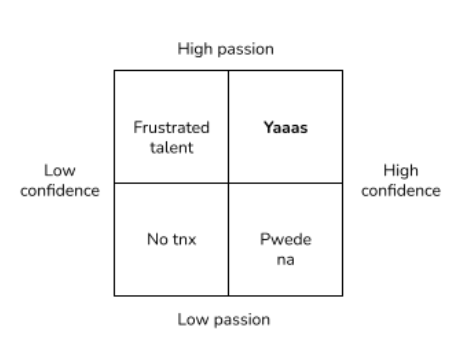 Here's a description of each quadrant.
High confidence, high passion (the sweet spot!): What activities and topics are you good at and passionate about?
Low confidence, high passion: What do you enjoy doing but are not very good at? The right graduate program can help boost your confidence in this area.
High Confidence, Low Passion: What activities or subjects do you excel in but don't enjoy? Also, will a graduate program help you change your mindset?
Low Confidence, Low Passion: What things do you NOT enjoy nor excel in?
You can ask your friends, family, or classmates to help you fill out this matrix. They might be able to point out your blind spots. With enough self-awareness, you'll be able to better plan out your next move.
The confidence-passion matrix can help you organize your thoughts and figure out the grad program that suits you best.

2. Where will I take my graduate program?
Are you taking your graduate studies in the Philippines? Find out which school is a Center of Excellence (COE) or Center of Development (COD) for your preferred program. If you know graduate students in your target school, reach out to them. Ask them about the graduate program and what it's like to study in that school.
Next question, should you consider studying abroad? A postgraduate degree from a top country will definitely boost your career. But there are also many benefits to studying in your home country.
Here are some pros and cons to studying in your home country vs. studying abroad.
Studying in your home country
Pros

More affordable
Local networking opportunities
No additional pressure of adapting to a new country

Cons

May be limited in course scope compared to more advanced graduate programs abroad
Studying abroad
Pros

Learn about your field from a different perspective
Learn a foreign language and culture
International networking opportunities
Boost your credentials

Cons

High tuition and cost of living
Language barrier
Homesickness
Aside from these two options, you can consider online education. Many colleges and universities offer reputable master's degrees online. Online education is also convenient. You get to study at your own pace, from any location.

3. How will I pay for my graduate studies?
Graduate studies in the Philippines can cost at least P 10,000 per semester. The tuition can go up to P50,000 per year, or even P100,000 per year in premium schools. What's more, certain programs like law and business administration tend to cost more than other graduate programs.
Kung balak mo mag-aral abroad, expect much higher costs. According to FinAid.org, master's degrees can cost $30,000 (P 1.5 million) and above in the US. Meanwhile, master's programs in Japan can start from half a million pesos per year.
Mag-grad school ay 'di biro! Luckily, maraming scholarships for graduate programs here and abroad. Check school websites to see if they offer scholarships and financial assistance programs.
Depending on your preferred school, pwede ka ring kumuha ng tuition installment plan sa Bukas. Affordable tuition installment plans can lessen the pressures of graduate school. Check out our list of partner schools to get started.

4. When will I take my graduate studies?
Are you ready to pursue grad school now, or do you need more time? Either way can be a good decision.
Some people pursue their postgrad right after college. Therefore, they can focus on their studies instead of juggling school and work. They also get to complete their graduate degree at a younger age then qualify for higher-level job positions.
But there's no pressure in rushing into graduate school.
Many college graduates spend years in the workforce before taking their master's or doctoral program. Work experience can build the confidence you'll need in graduate studies.
MA Sociology student Frances Damazo, 29, shares the benefits of waiting a few years before going to grad school. "I enjoyed the field I was in at work and I was curious enough to deepen my understanding of the world and society." She adds, "I recommend going into the workforce first before getting straight into graduate school because there are valuable lessons to be gained like seeing the connection between theory and practice."
Feeling discouraged to study during the pandemic? Here are some reasons why studying amidst the pandemic can still be worth it.


Walang one-size-fits-all advice para sa pagpili ng grad program. Your choice of graduate program boils down to your specific skills, interests, and career dreams. Now that we've given you the guide questions, it's your turn to do the rest!
Whichever path you take, graduate studies will surely boost your career and personal growth.
Take one step closer to your graduate school dreams. Learn more about how we make education affordable for thousands of Filipino students like you. Download the Bukas app on Google Play today! Kung gusto mo maging updated with our latest content and updates, you can connect with us on Facebook or reach us any time via email!

About the Author
Karr is a freelance writer with a passion for storytelling and self-development. For six years and counting, she's been creating content for impact-driven companies. Her skill set includes writing about student life, producing videos on inspirational athletes, and making resin art. As a multipotentialite, Karr believes a career path doesn't have to be a straight line.