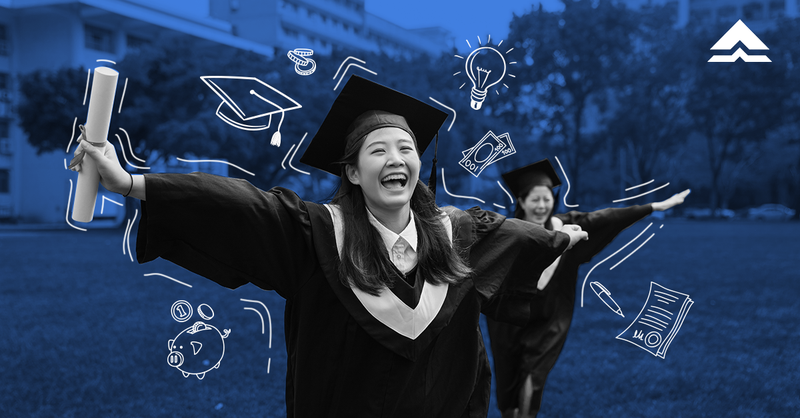 When you were a young kid, adults have probably asked you what you wanted to be in the future. Your five-year-old self would have answered astronaut or superhero. Pero ngayon na you're about to enter college, your answer may have changed.
When planning and preparing for the future, the profession you want to pursue should factor into your school and course selection process. Successfully doing so will help you map out your career and make it easier for you to reach your goals.
While the start of your career may still be a few years away, you should take some time to know which jobs are in demand or pay the highest. Doing so will make it easier for you to chase your dreams and build a brighter future! To help you out, we've curated a list of the best-paying jobs for fresh graduates in the Philippines.
Note: Average monthly salaries are based on available data from Glassdoor. These figures may vary from case to case.

Healthcare Provider
Approximate salary range: PHP 30,000 to 55,000/month
The medical sector needs all the help they can get, lalo na ngayong pandemic. The May 2020 JobStreet report shows that healthcare is in the country's top three most in-demand jobs.
Hindi biro ang trabaho ng mga medical frontliner, more so the process of getting the job. Kaya kung passionate ka to become a healthcare provider, you have to get through and understand intensive science lessons and readings.
If you want to be a healthcare provider, check out these college courses:
● BS in Nursing
● BS in Public Health

Teacher
Approximate salary range: PHP 16,000 to 24,000/month
Online na lahat ngayon—pati classes. As schools continue to hire more educators, now might be the perfect time to incorporate your advanced technology skills into this new approach to education. For a lighter load and more flexible schedule, you can apply for tutor gigs instead. Who knows? An aspiring graduate like yourself can pose a massive difference to the world, one student at a time.
If you want to be a teacher, check out these college courses:
● Bachelor of Elementary Education
● Bachelor in Secondary Education
● BS in Special Education

IT Support Professional
Approximate salary range: PHP 23,000 to PHP27,000/month
As more companies move operations to the digital space, dumarami na rin ang listings for IT support positions to provide smooth telecommutes daily. Although there are many different titles to it, the role of an IT support personnel mainly requires expert use of programming languages, extensive knowledge in network troubleshooting, and effective problem-solving skills.
If you want to be an IT support professional, check out these college courses:
● BS in Information Technology
● BS in Computer Science
● BS in Software Engineering

Engineer
Approximate salary range: PHP 21,700 to PHP33,400/month
Then and now, the demand for fresh engineering graduates is high. Maraming career opportunities for those who dream of becoming an engineer dahil bukod sa typical labor work, they can also work in telecommunications, power, and production management. Some companies are even allowing for a work-from-home setup ngayong pandemic.
If you want to be an engineer, check out these college courses:
● BS in Electronics and Communications Engineering
● BS in Electrical Engineering
● BS in Industrial Engineering

Customer Service Representative
Approximate salary range: PHP 20,000 to PHP 25,000/month
The business process outsourcing (BPO) industry has always offered high-paying jobs to many, one of which would be a customer service representative. Since most call centers don't require prior professional experience nor a particular degree, this line of work became one of the easiest entry points to the professional world for fresh graduates.
If you have good communication skills and a knack for problem-solving, then customer service might just be for you! Mag-ready ka lang for unusual shift schedules dahil most BPO companies cater to clients from different or multiple time zones.
Graduating from any four-year course will immediately qualify you for a customer service representative role!

Marketing and Sales Associate
Approximate salary range: PHP 19,000 to PHP24,000/month
The marketing and sales department is crucial to any business. It makes for a promising start to your career, especially if coming up with pitches for clients or collaborating with a team of creatives is your thing.
Since malawak ang scope ng marketing and sales, mataas din ang chances mong maging well-rounded employee, which can work to your advantage sa pagtagal ng panahon.
If you want to be a marketing and sales associate, check out these college courses:
● BS in Business Administration
● BSBA in Marketing Management
● BS in Entrepreneurship

Data Analyst
Approximate salary range: PHP 18,000 to PHP 21,000/month
Hindi na oil ang pinakamahalagang resource sa mundo ngayon—data na! More and more companies are leveraging data to learn market trends and align their operations to them. With the help of data analysts who utilize modern tools daily, raw data can be interrupted and analyzed into meaningful results that decision-makers can use to develop effective business strategies.
If you want to be a data analyst, check out these college courses:
● BS in Statistics
● BS in Data Science
● BS in Economics

Administrative Assistant
Approximate salary range: PHP 13,000 to PHP17,000/month
They are the unsung heroes in the office. From acquiring talents and planning organizational meetings hanggang sa monthly payroll and bookkeeping, admin team ang in-charge diyan! An admin assistant position is still one of the best-paying HR-related jobs available that suits new degree holders looking for a job.
If you want to be an administrative assistant, check out these college courses:
● BS in Office Administration
● BSBA in Operations Management
● BSBA in Human Resources Management


But first, pick a course and school!
With these programs and career opportunities ready for you, indeed, the world is in the palm of your hands! Start by picking the right course for your skills and choosing a school that feels like home to you, all the while ticking off the other boxes on your list. To help you finance your #DreamCollege experience, Bukas (and the student loans we offer) are here for you!
Learn more about how we make education affordable for thousands of Filipino students like you. Download the Bukas app on Google Play today! Kung gusto mo maging updated with our latest content and updates, you can connect with us on Facebook or reach us any time via email!
Want to get a FREE College Guide? Mag-sign-up na para makakuha ng more freebies at maging updated sa exclusive tips, how-tos, and latest events and webinars led by Bukas.