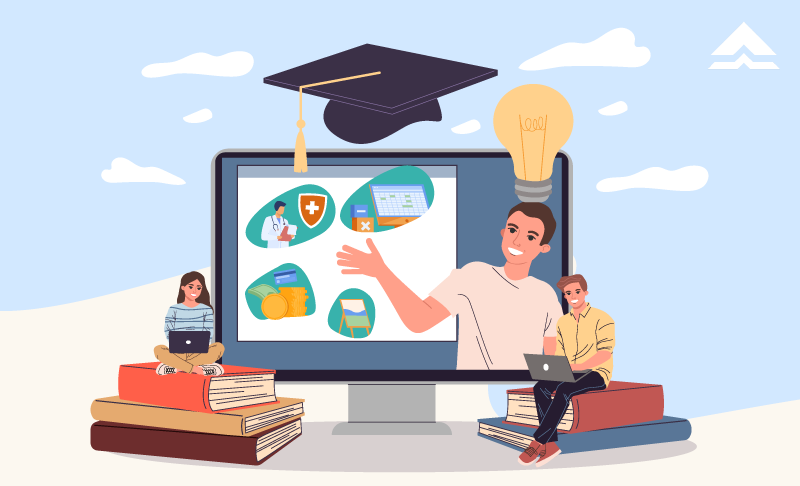 Eto na ang pinakahihintay mo. This is what you have been working towards all those years in elementary and high school. Finally, papasok ka na sa college!
There's only one problem. Up until now, you have not yet made up your mind about which college you want to go to, much less the course you must choose. While everyone else seems to have a clear picture in mind of where they want to go and what course to take, you have yet to make up your mind. Okay lang 'yan!
Choosing the right course orpicking a college is one of the most important decisions you could ever make in your life, and being afraid to make the wrong decision is a valid concern. Instead of dreading this big step, let us help you in making this big decision in your life.


A Deep Dive on Selecting the Right Course
For incoming college students, deciding on a course and college is a significant decision. While there's no way to predict what will happen in the future, the choices you make can determine the experiences you'll undertake in the coming years. To help you select the right course and college, here are some things you should consider.

Start with your interests
Ano nga ba ang mga hilig ko? Choose a course that's aligned with your interests! If you love to create illustrations or shoot videos, maybe a communication course can be a great fit for you. What did you want to be when you grew up? You might have forgotten it along the way or feel as if you're behind, but always remember that it's never too late!

Know your strengths and skills
Ano ang mga taglay kong talento at talino? Choosing a college major also entails an evaluation of your skills and abilities. You may have a decent idea of what you want, but do you know what you're good at
Ideally, you should enroll in a course or major that allows you to explore both your interests and your abilities. Once you've determined that, look for a course that would help you improve or prepare you to make a career out of it.

Check the course content
Ano ang nilalaman o dapat kong mapasa sa kursong ito? Keep in mind that some students switch majors throughout college (even multiple times) because it turns out differently than what they expected. Even though you have a clear idea of what you want to study, you could change your mind later. Know what you're getting yourself into, and check the course curriculum of the program you want.

Look at a program's earning potential
Madali ba akong makakahanap ng trabaho sa kursong ito? While it may still be some years away, you should also think about life after college. Considering your financial goals, you may want to choose a course that will help you reach your set milestones. Being aware of the potential jobs you can land with a degree can help you with your decision.

How to Select the Best College Possible

Available programs
Once you have a list of courses that interest you, go ahead and look at the available programs of your prospective universities. If a particular institution has the course you want, doing more research will help you shortlist your options.

Location, Location, Location
Do you like to spend time with your family? Or gusto mo bang tumira sa dorm? While online learning is currently the norm, it's still important to factor in the school's location. In the event that face-to-face classes resume, your home's proximity to your chosen school can greatly determine your college experience.

Costs and financial aid
As much as you'd want to attend a prestigious university, the reality is that not everything is free. Studying in college can be really, really expensive. Higher education costs can have a long-term impact on your life, so it's important to stay practical when selecting an institution.
However, don't be put off by the price tag of your dream school. Ask your prospective university if they offer various programs such as full and partial scholarships, book or uniform allowances, or monthly stipends. If you want more flexibility, consider looking at student loan programs.

On-campus facilities and amenities
The facilities and equipment of a school impact everyone, mula sa students hanggang faculty. This is especially important if the course you're taking demands more technical or specialized abilities, such as medicine, engineering, or multimedia arts. Make sure to check out the campus' facilities before enrolling.

School org and activities
Excited ka na bang sumali sa mga artistic productions or regional contests? If you have a passion for sports, the arts, or any other activity, then you should see if the college of your choice offers these options. College isn't only about majors and books; it's also about networking, having fun, and experiencing growth through out-of-classroom experiences.

Your safety on campus
Nagpapasok ba si Kuya Guard kapag naiwan mo and ID mo? Learn about your university's safety protocols. On another note, it would also be beneficial to learn how the institution handles bullying, out-of-school threats (e.g. thieves and snatchers), and other sensitive issues such as hazing.

Career preparation and support
The aim of education is to prepare you for a path that will lead to a prosperous future. Choose a university with career advancement and alumni mentorship programs to help you become a more marketable employee after graduation. Is there a notable graduate from that school? Do you hear stories of their successful alumni? These are tangible proof of a college's caliber.

School process
Paano ako makakapasok sa dream school ko? Getting into the college of your choice is already a daunting task. Some universities are difficult to enter because of their demanding requirements, so choose one with a simple and straightforward process. Plus, accommodating staff too!


Final Thoughts
College is the last stop before you head out into the real world. You'll learn the skills you need to succeed in your chosen field, helping you build a better future. While there are a lot of things to consider, perhaps the most important is whether you feel comfortable on campus and happy with the course you choose. This is for your future after all. We're just helping you navigate through it. (Shameless plug: Compare your course and school options in a few clicks with Bukas!)
With this guide in mind, we hope that it will be easier for you to build a long, happy, and comfortable life, both in school and after graduation. Mula sa unang araw mo sa kolehiyo hanggang graduation, kasama mo ang Bukas!
Learn more about how we make education affordable for thousands of Filipino students like you. Download the Bukas app on Google Play today! Kung gusto mo maging updated with our latest content and updates, you can connect with us on Facebook or reach us anytime via email!
Want to get a FREE College Guide? Mag-sign-up na para makakuha ng more freebies at maging updated sa exclusive tips, how-tos, and latest events and webinars led by Bukas.