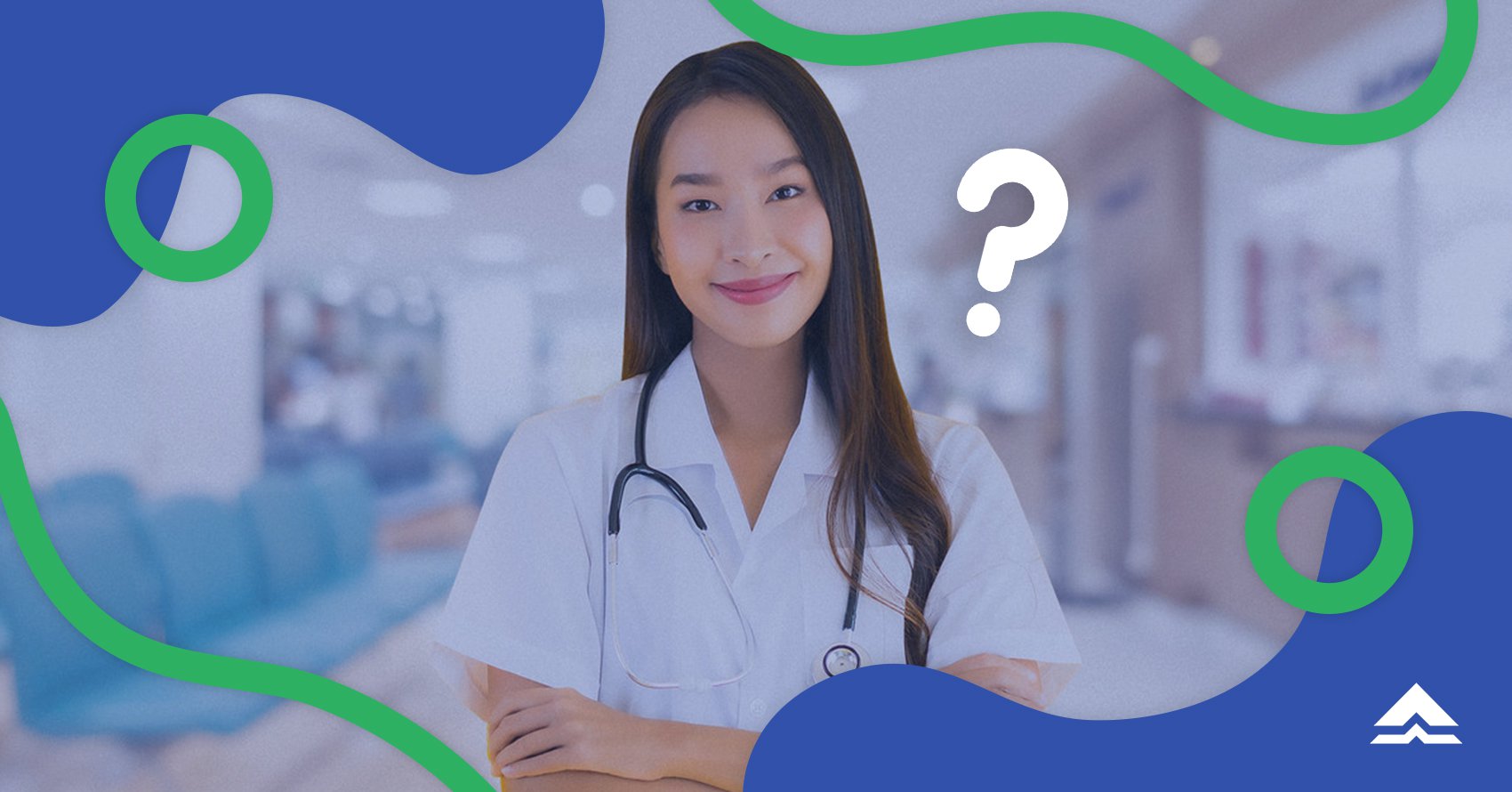 Medical careers like doctor and nursing have always been some of the most in-demand jobs in the market but especially now in a global health crisis. If you see yourself wearing a white gown and providing healthcare to patients, ang pagiging isang medical doctor ang isa sa mga professions na pwede mong pagpilian.
However, the journey to becoming a medical doctor takes years of discipline, hard work, and sleepless nights. You need to complete a number of rigorous exams, as well as years of intense training. If you're up for the challenge, here's our comprehensive guide if you want to become a doctor in the Philippines.

Study a pre-med course
When choosing a pre-med program, it is best to consider a program that not only aligns with your interests but also one that will help you better prepare for National Medical Admission Test (NMAT). Paano makatutulong ang course na ito para maabot mo ang iyong #ultimategoal of becoming an MD?
Pre-med programs are designed to prepare your brain for intense education in medical school. It will also help you build the skills and experience required to succeed in a medical degree program. Here are some of the most common pre-med programs:
Bachelor of Science in Nursing
Bachelor of Science in Biology
Bachelor of Science in Medical Technology
Not sure which program to take? Check this out: 7 Medical Courses In The Philippines For Aspiring Med Students

Go to med school
It usually takes four years to get a Doctor of Medicine degree. Pero bago ka makapag-enroll sa med school, kailangan mo munang maipasa ang NMAT. Ang NMAT ay isang national level examination pre-requisite to your admission to any medical school in the Philippines. After passing this, it's time to choose the right school for you!
When choosing the right med school for you, it's best to choose one that could help you prepare better for your chosen career. There are a number of medical schools in the Philippines known for their excellent performance in the Physician licensure exams.
Bukod dito, makakatulong rin sa iyong alamin ang mga admission requirements ng college na nais mong pasukan. You might also want to consider taking some time to think about the goals you would like to achieve and then see which schools offer options to help you pursue your interests. Here are some Bukas partner schools offering medicine:
Our Lady of Fatima University
Centro Escolar University
Saint Louis University
Find the best med school for you! Explore Bukas Gabay to see your options.

Pass the Physician Licensure Exam
After earning your degree in "Doctor of Medicine", kailangan mo pa rin ng lisensya to practice medicine. That's why you need to pass the Physician Licensure Exam. This exam is given twice a year (usually March and September), and is administered by the Board of Medicine (BOM) under the supervision of the Professional Regulation Commission (PRC). Mayroon itong dalawang categories. Each category covers the following six different subjects:
Basic sciences: Anatomy, Physiology, Biochemistry, Microbiology, Pathology, Pharmacology
Clinical sciences: Internal Medicine, Obstetrics & Gynecology, Pediatrics, Surgery, Legal Medicine, Preventive Medicine
Para makapasa, kailangan mo ng board exam average rating ng at least 75% with no grade lower than 50% in any subject. Medical students usually have 2 to 6 months after a post-graduate internship allotted for the review. Kapag naipasa mo ang Physician Licensure Exam, your "MD" license will finally allow you to work as a general practitioner. However, if you wish to further your study and gain specialty, you need to undergo medical residency.
Here's the complete list of requirements for the Physician Licensure Exam.

Start your residency
After completing a Doctor of Medicine and passing the licensure examination, you will be eligible to take the residency program in the specialized department you want. Depende sa specialization na gusto mong makuha, may iba't-ibang accreditation committee/board ang mga medical societies to assure the delivery of the highest quality medical care.
Medical residency can take between 3 to 6 years of training sa mga accredited hospitals and clinics. Resident doctors are given full compensation along with night pay and overtime pay, and are supervised by a superior. If you don't like to take this career path, pwede ka rin magtrabaho right away as a general medical practitioner sa mga hospitals at clinics o magtayo ng sarili mong healthcare facility.
Narito pa ang ilan sa mga trabaho na pwede mong pasukan under the medical field:
Nurse
Medical Technologist
Healthcare Customer Care Representative
Interested to explore more healthcare career options? Check this out: 7 In-Demand Medical Careers In The Philippines You Should Consider

Equip yourself with these skills
Aside from having a top-notch degree program and the best training, Healthcare employers will also be looking at your clinical skills. Here are some of the important skills to help you succeed in your career:
Hunger for learning - Aside from the grueling exams that you need to undergo to earn your medical license, you also need to have a strong capacity for learning because medicine is such a dynamic and ever-changing field. Habang buhay kang mag-aaral at matututo.
Problem-solving skills - As a medical professional, it's important for you to be as accurate as possible to provide the best care for your patient so being a natural problem solver is a crucial part of the job.
Teamwork - Nurses, doctors, surgeons, and technicians all relay information to each other constantly. That's why your ability to interact and build relationships with your colleagues is essential in building a harmonious working environment.
Resilience - Being in the healthcare industry can be really tiring and stressful. Resilience will help you continue during tough times.
Pick up the best skills to become the best healthcare professional you can be. Check this out: 5 Essential Skills Needed For Healthcare Professionals


Medicine is not just a career, it is a practice. Even after you graduate, you have to be recertified after some time. Simply put, you have to keep on practicing and using your experiences to become a better doctor. However, you don't have to worry or be afraid. Being a medical doctor is a very rewarding profession. The impact that you'll be able to give to other people in providing healthcare is well worth the effort. Sigurado 'yan!
Ready to start your #RoadtoMD? Ang Bukas mo, sigurado sa medicine! Start creating your future with Bukas. Study medical courses in your dream school with a tuition installment plan today. Whether you're enrolling for undergrad or applying for med school, Bukas can cover your tuition and other school fees! We're rooting for you, future MD!
Learn more about how we make education affordable for thousands of Filipino students like you. Download the Bukas app on Google Play today! Kung gusto mo maging updated with our latest content and updates, you can connect with us on Facebook or reach us any time via email!

Written by: Karl Nucum