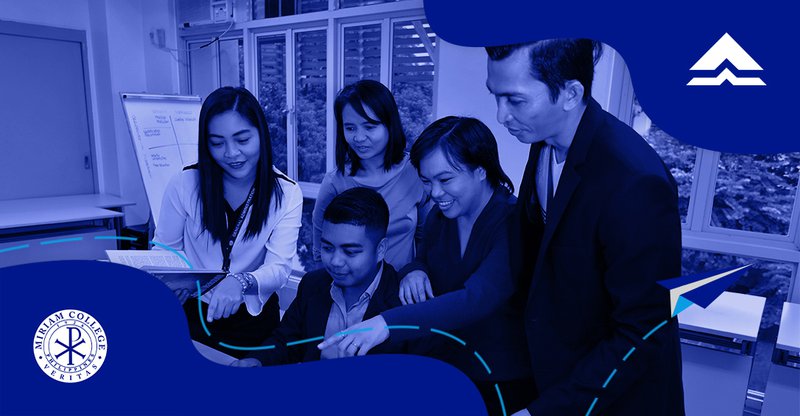 Miriam College's mission is to empower women (later on, students of all genders) through education.
The school has a rich history that dates back to 1926 when the Sisters of the Maryknoll Congregation in New York received a request to create a teacher-training program for Filipino women.
In 1953, after several relocations, Maryknoll College found its permanent location in Diliman, Quezon City. When the congregation confirmed the Filipino laity's capacity to continue the institution's operations, they entrusted its operations to the latter. In 1989, Maryknoll College was renamed to Miriam College.
Throughout the years, Miriam College provides access to courses and programs relevant to creating solutions to today's challenges. And with Bukas, earning a degree at Miriam College just got more affordable and flexible.
Sharing one mission
Miriam College and Bukas have a shared goal that enabled this partnership to begin in the first place: the desire to provide students access to quality education. Bukas, as Miriam College's third-party educational loan assistance partner, provides affordable and flexible tuition installment plans to parents and college and graduate students.
As a future or current Knoller, you now have more options to pay for your college education.
For instance, if you have an overall tuition balance of Php 60,000 at Miriam College, Bukas can make it affordable for you to pay as follows:
Tuition amount: Php 60,000
Plan duration: 12 months
Monthly interest: 1.5%
One-time Service Fee: 3%
Total amount to pay: Php 6,050 per month
Note that as of the moment, Bukas is only available for Miriam College students of the Quezon City campus.
How to apply for a Bukas Tuition Installment Plan
Bukas made it simple for you to apply for a tuition installment plan within the comforts of your home.
Step 1: Go to app.bukas.ph/register to create your Bukas profile.
Step 2: Fill out and submit the application form. Wait 3-5 working days to get feedback from our team via SMS or email. Note that you may be asked to provide additional information via email. Make sure you submit these as soon as possible to avoid delays in processing your application.
Step 3: Log in to your Bukas account and confirm your application once you receive the approval.
Step 4: Once confirmed, Bukas will deposit your full amount directly to Miriam College. You'll receive an SMS once it's disbursed. It will also reflect on your Bukas account after 1-2 working days.
Step 5: Study hard and pay your Bukas monthly dues at any of our more than 8000 partner payment centers nationwide.
Documents needed to apply
It is best to prepare your documents in advance so that applying for a Bukas Tuition Installment Plan will be a breeze.
To start off, you should prepare:
Know more about the requirements to be a Bukas borrower here.
Expanding horizons
Classes at Miriam College are known for their quality and relevance in addressing the challenges of today. The teachers are professionals in their field and students get a glimpse of how problems are dealt with in the professional setting.
And with this partnership, the opportunities to explore the possibilities and expand the student's horizons are endless.
Learn more about how we make education affordable for thousands of Filipino students like you. Download the Bukas app on Google Play today! If you want to be updated with our latest content and updates, you can connect with us on Facebook or reach us anytime via email!