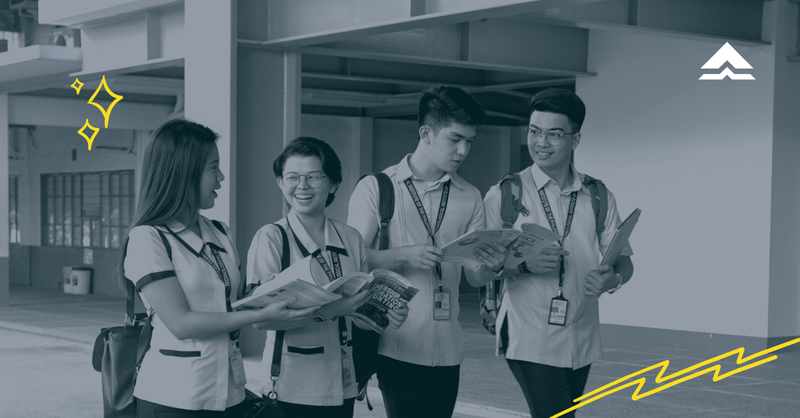 Deciding to take your college or graduate studies at the Technological University of the Philippines (T.I.P.) is quite easy. Consider this. Campus locations conveniently located in Manila and Quezon City. CHED and ABET-accredited programs. Impressive reputation for engineering and technological education. Hindi ba tatlong check marks agad yun? 
With its newly launched partnership with Bukas, you can expect another check mark to prove that T.I.P. is the one! Simula ngayong S.Y. 2021-2022, mas affordable na ang pag-aaral mo sa T.I.P. As a partner school, T.I.P.ians can now avail a Bukas tuition installment plan as a new payment method! The more options, the better. 
What is a Bukas tuition installment plan?
A Bukas tuition installment plan, or simply a student loan, is an affordable and flexible way to pay for your tuition. Kapag nag-enroll ka sa T.I.P. through an installment plan, Bukas can cover up to 100% of your tuition for the semester while you pay back the amount in 12 monthly installments. Take note na may flat interest rate na 1.5% every month at one-time 3% service fee ang bawat installment plan.
With a more flexible payment option for your studies, ikaw nalang ang kulang. To help you get started on your T.I.P.ian journey, we listed down three tips na makakatulong sayo when you enroll this coming semester. Take notes!

TIP #1: Prepare all the requirements for faster application
Requirements are a crucial part of your application process. Nakakatulong ito para makumpleto ang student profile mo. It also helps verify your identity! Kung incoming college freshmen ka sa T.I.P., ito ang kailangan mong ihanda na mga requirements:
Senior high school report card (Form 138)
PSA birth certificate
Certificate of good moral character (with school seal)
Recent 2x2 ID picture (2 pcs)
Certificate of honors/rank, if applicable
Make sure everything you submit is correct, accurate, and complete to avoid delays. Likewise, you'll also need to prepare some things when you apply for a Bukas installment plan. Isabay mo na sa paghahanda ng school documents mo! At the least, you should meet these requirements:
be a Filipino citizen and at least 18 years old
have their T.I.P. student ID or any government-issued ID
have a physical or digital copy of their assessment form
have a guarantor at least 21 years old with proof of income (working-students can become their own guarantor)
Start preparing your requirements! Here's a complete list of accepted valid documents.

TIP #2: Apply online for your safety and convenience
As part of its effort to adapt to the "new normal," T.I.P. has implemented a fully online enrollment process for students. Kung gusto mag apply on site, pwede rin naman. Just remember to set an appointment first! 
However, we strongly suggest applying via online for your safety. Plus, you can save time, money, and effort from making the trip. Sayang ang pagod kung pwede naman online, diba? Here are a few reminders:
T.I.P. created a comprehensive page for all things enrollment. Nandito ang kumpletong listahan ng mga requirements, guidelines, downloadable forms, pati sagot sa mga tanong mo! Go ahead and check out the T.I.P. Admissions page.
Enrollment period is from June 1- August 22, 2021 for incoming students and transferees while continuing students can enroll from August 5-22, 2021. Make sure to apply before the deadline. Mas maaga, mas maganda!
Ready to enroll? Start your online application here.
In a regular semester at T.I.P., you can take up to 27 units (9 courses) for around Php 1, 300 per unit. That's more or less Php 30,000 in total! Alam mo bang pwede kang magbayad ng tuition na hulugan instead of a one-time payment? Yes, that's where a Bukas installment plan comes in!
How does the Bukas tuition installment plan work?
When you apply and get approved for an installment plan, Bukas will pay your tuition directly to T.I.P.. You will then have to pay your Bukas monthly dues for 12 months. For example, kung kailangan mo ng Php 30,000 for your tuition, you can get an installment plan from Bukas and pay only Php 3,025 every month. Ayos, diba?
That said, getting a plan is beneficial for all students—not just for students who are trying to make ends meet. Mas mapagkakasya mo na ang monthly budget mo to cover other important expenses like food and utility bills. That way you don't have to sacrifice your daily needs and, at the same time, worry kung makakapag enroll ka pa next sem. With Bukas, you can take care of both!
Gusto mo ba malaman ang estimate based on your actual tuition at T.I.P.? You can try out our calculator here.
How can T.I.P. students apply for a tuition installment plan?
Like the school's enrollment process, applying for an installment plan is fully online—easy, fast, and convenient. The whole application process can be done within 3-5 working days. Get started with these five simple steps!
Step 1: Register and complete your profile via the Bukas app or app.bukas.ph/register
Step 2: Fill out and submit the application form. Maghintay ng 1-2 working days to get feedback via SMS or email!
Step 3: Once approved, log in to your Bukas account and confirm your application.
Step 4: Once confirmed, Bukas will deposit your full amount directly to T.I.P. Makakatanggap ka ng SMS once it's disbursed. After 1-2 working days, makikita mo na ito sa Bukas account mo!
Step 5: Study hard and pay your Bukas monthly dues at any of our payment partners.
Both T.I.P. and Bukas employ a fully online application for students from start to finish. Dahil kaligtasan mo ang priority namin, we make sure the steps you need to follow are done in the safest and most convenient way possible. That brings us to the third and last tip for your enrollment.

TIP #3: Download the mobile app for easier access
There is literally an app for everything you need in life. In just one tap, you can have a hot meal or car ride on your doorstep. Services have been way more accessible nowadays. There's no reason why your education should be any different! Introducing the EmpowerED ARIS mobile app, T.I.P.'s student portal.
Not only can you enroll online, pwede mo na rin makita ang lahat ng kailangan mo for your studies via the app. From enrolled courses and activity calendar for the sem to your sections and grades. How's that as proof of T.I.P.'s technological expertise?
Bukod sa ARIS, may Bukas app rin! We know how important education is for your future, and the last thing we want is to stop you from schooling because you can't afford tuition at the time. Not to mention the difficulty of getting financial assistance. Skip the long lines and endless paperwork! Sa Bukas app, pwede ka nang mag apply for an installment plan straight from your mobile phone! Make space on your phone and download both apps on Google Play today. Enrollment has never been easier.


Enrollment season at T.I.P. is currently ongoing. And if we aren't clear enough, the school has made sure it's easy and simple for all aspiring T.I.P.ians. As it should be. Kung kailangan mo ng tulong to pay for your studies, you can always apply for a tuition installment plan. May Bukas para sa'yo! All year levels, all year round. Like we said, ikaw nalang ang kulang. What are you waiting for?
Enroll today at T.I.P. through a Bukas installment plan. May magandang bukas na naghihintay sa'yo and all it takes is for you to take the first step. We're excited for you, future T.I.P.ian!
Learn more about how we make education affordable for thousands of Filipino students like you. Download the Bukas app on Google Play today! Kung gusto mo maging updated with our latest content and updates, you can connect with us on Facebook or reach us anytime via email!