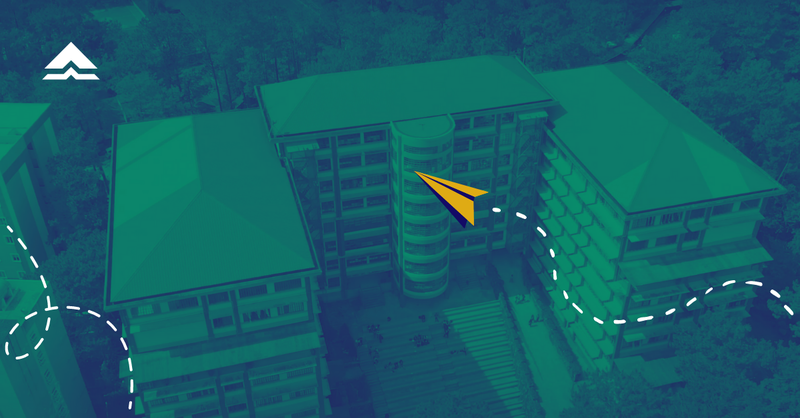 There are a lot of things to look forward to when you study at Saint Louis University (SLU). For starters, studying in Baguio City. Enough said. But for the most part, it's getting your education from one of the most prestigious universities in the country. And that's a fact, not a claim. (Kung kailangan mo ng proof, feel free to check out SLU's Center of Excellence recognitions from the Commission on Higher Education.)
Ngayong may Bukas na sa SLU, here are a few more things you can look forward to as a certified Louisian!

Pay for your studies–the Bukas way
Starting on July 5, 2021 (Monday), SLU will be providing a new tuition payment option for its students through its newly-launched partnership with Bukas. As a partner school, pwede nang mag apply ang mga estudyante for a Bukas tuition installment plan para makabayad sa tuition and other expenses for the semester.
We know education can be costly. But it doesn't mean you should put it aside altogether. With Bukas, you can have more flexibility in paying for your studies na mas magaan sa bulsa. Think of it this way–na stretch mo na ang budget mo, natapos mo pa ang pag-aaral mo! Panalo, diba?
What is a Bukas tuition installment plan?
A Bukas tuition installment plan, or simply a student loan, is an affordable and flexible way to pay for your tuition. When you enroll at SLU through an installment plan, Bukas can cover up to 100% of your tuition for the semester while you pay back the amount in 12 monthly installments. Kung gusto mong bayaran ang total amount ng mas maaga, pwede rin! You can do that without worrying of any early termination or penalties.
A friendly reminder that every installment plan comes with a flat interest rate starting at only 1.5% monthly interest and a one-time 3% service fee. It's good to keep this in mind when you evaluate your financial capacity to pay off your student loan over time.
Why pay your tuition at SLU with Bukas?
All students can benefit from a Bukas tuition installment plan. Contrary to common misconceptions about student loans, financial assistance is not just for students who badly need financial assistance to pay for their tuition. That's just one aspect of it!
Applying for an installment plan can also be a smart way to stretch your family's monthly budget, specifically making sure other important expenses like food and utility bills are covered while you pay your tuition for as low as Php 1,009 per month. So why choose when you can have both, right? With Bukas, you can take of both.
How does the Bukas tuition installment plan work?
When you apply and get approved for an installment plan, Bukas will pay your tuition directly to SLU. You will then have to pay your Bukas monthly dues for 12 months.
For example, if you need Php 30,000 to enroll next semester, pwede kang kumuha ng installment plan from Bukas. That way you only pay Php 3,025 every month. Ayos, diba? Kung gusto mo malaman ang estimate ng Bukas monthly dues mo based on your actual tuition at SLU, try out our calculator!
How can SLU students apply for a tuition installment plan?
Sa Bukas, we believe that quality education should be as accessible to students as possible. Kasama na rito ang payment options na madali, mabilis, at hassle-free para sa lahat. Kaya naman, with our fully online process, you can get your application approved in as early as 2-3 working days. Simply follow the five steps below:
Step 1: Register and complete your profile via the Bukas app or app.bukas.ph/register
Step 2: Fill out and submit the application form. Maghintay ng 1-2 working days to get feedback via SMS or email!
Step 3: Once approved, log in to your Bukas account and confirm your application.
Step 4: Once confirmed, Bukas will deposit your full amount directly to SLU. Makakatanggap ka ng SMS once its disbursed. After 1-2 working days, makikita mo na ito sa Bukas account mo!
Step 5: Study hard and pay your Bukas monthly dues at any of our payment partners.

Come for college, stay for grad school
Getting your college degree at SLU is great. Kasama mo ang Bukas mula first year hanggang graduation! Kahit na prelims, midterms, or finals pa 'yan. But did you know that you can also pay for grad school with an installment plan? 
A lot of students want to pursue graduate studies but often stop at the thought of the huge amount of expenses they need to pay. Gusto mo ba mag-aral ng law or medicine sa SLU? Go for it! Mas abot-kaya na ang masters or doctoral degree mo with Bukas.
Not only will you get quality education for your money, pwede mo pang bayaran ang tuition mo kada buwan instead of a one-time payment. Now, what else is stopping you from getting that degree? Mapa college or grad student ka man, may Bukas para sa'yo! All course programs, all year levels. 
At the very least, you should be able to meet these requirements:
be a Filipino citizen and at least 18 years old
have their SLU student ID or any government-issued ID
have a physical or digital copy of their assessment form
have a guarantor at least 21 years old with proof of income (working-students can become their own guarantor)
Ang dali, diba? To better prepare for your requirements, check out our complete list of accepted valid documents.


Studying at SLU is one of the best decisions you can make as a student. The Louisian alumni can agree. But we bet it's way better if you check it out yourself. The city, the university, and the SLU community are just a few things you can look forward to. With Bukas, you can start your journey as a Louisian next semester and tell us more yourself. We're excited for you!
Learn more about how we make education affordable for thousands of Filipino students like you. Download the Bukas app on Google Play today! Kung gusto mo maging updated with our latest content and updates, you can connect with us on Facebook or reach us anytime via email!