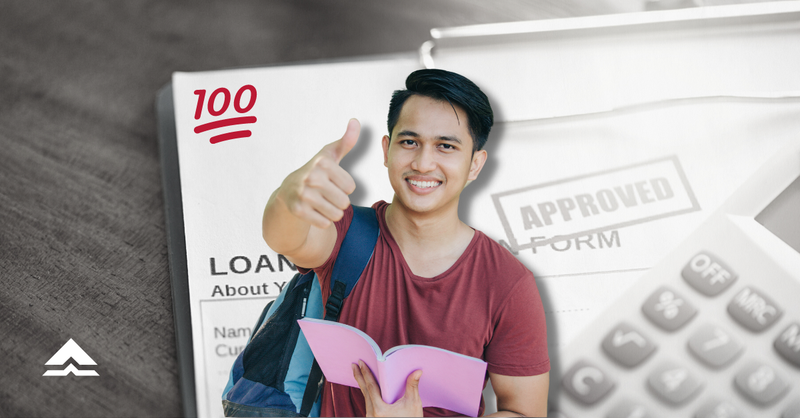 Fill in the blanks: Study now, _____ later. Anong sagot mo? Is it pay or pain?
Tbh, there's no right or wrong answer. What goes on that blank is all up to you! Education is important, and will always be with or without a global health crisis. Considering alternative payment options student loans can help students afford tuition in a way na hindi ganun kabigat sa bulsa. Kung hindi kaya ng isang bayaran, hindi ba malaking bagay na pwede kang magbayad ng hulugan?
As a student borrower, student loans can either be a heavy burden or a huge relief. After all, different students have different financial situations. If you consider student loans more of the latter, here are three habits you can practice to keep them from being a pain later on.

Habit #1: Read the fine print
Congratulations! You found a credible lender for your tuition payment. What's next? Kalma ka lang! Huwag ka muna pumirma agad-agad. Whether it's for your studies or for other needs, taking out a loan is a huge help but it's also a huge responsibility.
Review the contract like you would in a test. Study the payment terms, provisions, interest rate and other fees. Even better, discuss it with your parents or guardian. Kung may hindi ka maintindihan, ask away.
When you apply for a Bukas tuition installment plan, everything you need to know is written down in your contract. It's all there for you to read and carefully evaluate. There's also a Help Center to answer any questions you may have!
Maraming tao ang takot sa loans because they fear getting trapped in debt. That's a valid reason! With proper research, that fear can turn into confidence. At best, it can even help you continue your studies and pursue your dreams!

Habit #2: Stay lit with FinLit
Marami na tayong iniisip in life, idadagdag pa ba natin ang pag-intindi kung ano ang student loans? For sure! Being financially literate is one way to make sure you honor your commitment and don't fall into debts. After all, your spending habits are a huge factor in determining your capacity to pay off your student loans.
As young as you are, learn the art of budgeting! Stick to your budget and prioritize where your money goes. If may energy at oras ka pa pagkatapos magsagot ng modules, pwede ka rin sumubok ng part-time jobs so you can earn extra cash. It's also a good way to develop ownership when it comes to your finances. Being financially literate is lit.
PS. Want more tips on financial literacy? Check out the Bukas blog!

Habit #3: Pay on or ahead of time
When it comes to loans, we can never overemphasize the importance of paying on time. Hindi lang 'to para sa lender but work for you as well. When you miss your due date, you get charged with penalties. These avoidable amounts could have been used for your allowance or other daily expenses. Sayang diba? Ayaw natin 'yan!
To help you remember, keep a tracker for your student loan payments. You can create a spreadsheet, get help from a mobile app, or even set a recurring reminder on your phone. Kung meron kang bank account, why not maximize the auto-debit feature to save you time and effort? Bago mo pa magamit for an impulse buy, naibayad mo na sa kailangan. Thanks, technology!
Aside from those personal efforts, mas marami na ring payment options ang mga student loan providers nowadays. For starters, Bukas has thousands of payment partners nationwide. Most of it you can do online! Sa ganun, hindi mo na kailangan lumabas (at gumastos) para magbayad. Ayos, diba?


Student loans are meant to work for you, not against you. It is created to give you more options to pay for your education, without you stopping from school for the time being or quitting altogether. Whether you are thinking of getting a student loan or meron na, practice these three habits! Loans don't have to be a pain later on.
Learn more about how we make education affordable for thousands of Filipino students like you. Download the Bukas app today on Google Play today! Kung gusto mo maging updated with our latest content and updates, you can connect with us on Facebook or reach us anytime via email!