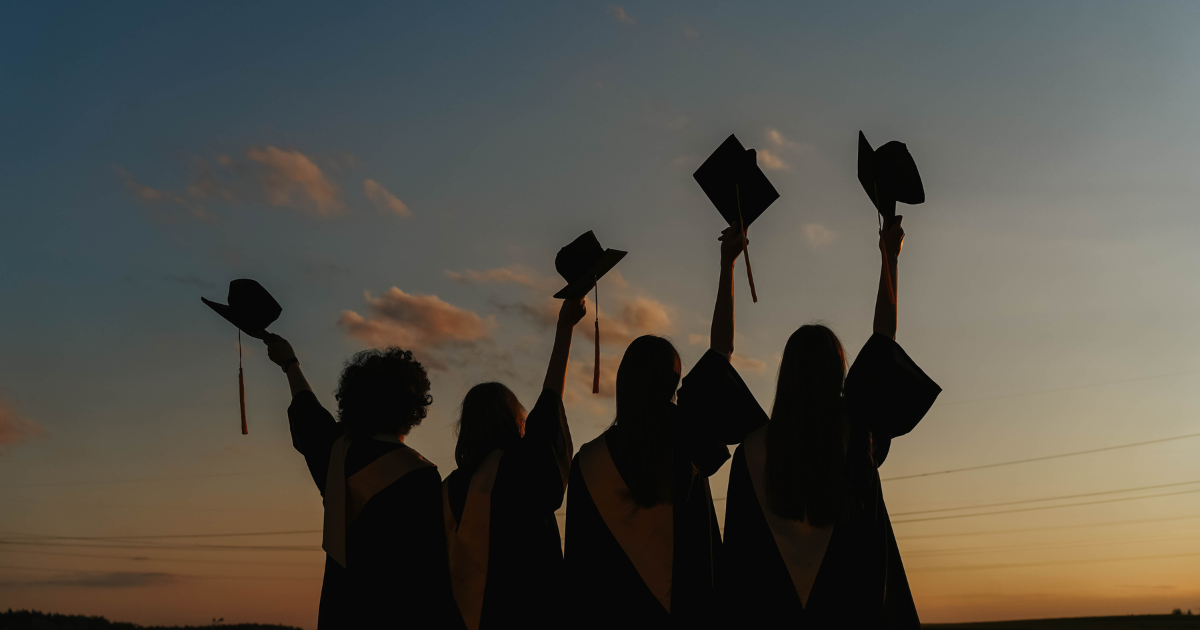 This article is co-produced by Bukas and Grit PH. Grit PH is one of the fastest-growing online learning platforms in the business and finance space in the Philippines. Grit PH helps millions of Filipinos tread the real world's most daunting tasks, empowering a continuously growing community to make informed financial decisions. 
Imagine yourself cruising through the final days of school. It's all exciting and nerve-wracking at the same time, right? Once you toss your graduation caps and the graduation high finally settles down, you realize that you're stepping into the real world with new challenges and opportunities.
Preparing for your life after school is a pretty big deal. While scaring you is the last thing we want to do, makakatulong ang tamang paghahanda para sa transition na ito at mabigyan ka ng headstart para sa bagong kabanata ng buhay mo.
Here's what you can to prepare well as you transition into adulthood!
Step 1: Understanding the Challenges
Sobrang laki ng pagkakaiba ng lifestyle mo pagkatapos mong makapagtapos. Here are the challenges you should watch out for.
Lifestyle change: Shifting from a structured to self-structured routine
As soon as you walk out of the school gates, you'll notice the change in lifestyle. Tapos na ang mga araw na dinidiktahan ka ng school schedule mo. You're now in charge of your life, and that means making your own schedule and sticking to it. Ito ay isang sobrang laking responsibilidad. While the first few months can be really challenging, be gentle with yourself. You'll eventually find your rhythm, and establish a routine that works for you.
Financial responsibilities: Planning for the financial transition from student to employee
It's no secret that the transition from student to employee can be a financial shock. When you were still a student, you've likely been living on a tight budget, surviving on a combination of savings, part-time work, and support from your family. But once you start working, wala ka nang safety net of allowance galing sa mga magulang mo.
Moving to a new place, starting a new job, and traveling to work can all come with significant expenses. Magbabayad ka pa ng security deposit para sa iyong apartment (if you choose to move out after graduation!), budget your commute allowance, and shell out payments for other essentials as you earn your keep in the adulting world. If you're not prepared for all these things, you might have a difficult time. Preparation is key!
Related: 5 Smart Habits that will Change your Life (and Wallet)
Emotional readiness and independence: Standing on your own feet
As a student, you may have relied heavily on your parents, teachers, and friends for emotional support and guidance. But once you enter the real world, you'll need to learn how to rely on yourself more. Ito ay isang mahirap na transition dahil kailangan mong matutong harapin ang mga problema nang mag-isa at magdesisyon para sa iyong sarili. Hindi sa lahat ng oras ay makakaasa ka sa ibang tao.
Just a friendly reminder that this does not mean that you should isolate and keep yourself from asking for help. A strong support system is still, if not more, important as you grow older. It just means that you will have to take on bigger responsibilities and be more accountable with your decisions.
Job market and career path challenges: Figuring out your career path
The job market can be tough, and finding a career path that's right for you can be even tougher. You have to be realistic and prepared to face rejection, as companies may not always offer you the job you're hoping for right away. That's okay! Figuring out your career path is a process. Matuto ka dapat maging flexible and open-minded. After all, your ideal career path may not be the one that you originally envisioned.
Step 2: Embracing the Journey of Self-discovery
Pagkatapos mong gumgraduate, ang daming mong makikilalang tao, magkakaoras ka para sa mga gusto mong gawin, at marami ka ring matututuhan tungkol sa iyong sarili. It's all part of the process of growing up and becoming an independent adult. Here are some ways that can help you in your path towards self-discovery:
Understand your personal interests and skills
After you graduate, it's important to take the time to pause and understand your personal interests and skills. These will guide you towards finding a career path that's right for you. A good starting point would be noticing where you spend most of your time, energy, and money.
Use tools and methods for self-assessment
There are various tools and methods you can use for self-assessment. Pwede kang mag-take ng personality tests para maintindihan mo ang iyong mga strengths and weaknesses. You can even take it a step further by asking people close to you like your family and friends since they know you best. Another way to assess yourself is by reflecting on your past experiences, both in and out of school. Think about the activities and tasks that you enjoy doing and those that you excel at.
Determine short-term and long-term goals
Once you have a better understanding of your personal interests and skills, it's important to determine your short-term and long-term goals. These goals will guide you towards making informed decisions about your career path and your life after school. Ang mga halimbawa ng short-term goal ay makahanap ng trabaho, palaguin ang iyong social network, at pagbutihin ang iyong kasanayan at kaalaman.
On the other hand, long-term goals are the ones you want to achieve later on in life. Achieving these goals may take some time. It may include reaching a certain level of "success" in your career, starting your own business, or achieving financial stability.
Step 3: Exploring Career Options
As a fresh graduate, it's important to explore different career options available to you. Career exploration is important since it allows you to discover different career paths and industries that you may not have been aware of. Nagbibigay-daan din ito sa iyo na magkaroon ng mas maayos na pag-unawa kung ano pa ang mga kailangan mong matutunan na mga skills. If ever you feel pressured to figure out your field right away, this is your sign. Unburden yourself from unnecessary pressure and take your time.
Research various career paths
Napakadaming career paths na pwedeng subukan ng mga fresh graduates—from traditional corporate jobs, freelancing to entrepreneurship. Some popular industries include finance, marketing, healthcare, technology, and creative fields such as advertising, writing, design, and art.
Grow through networking and informational interviews
Networking and informational interviews are great ways to explore different career options and industries. It involves building relationships with people in your desired industry. This way, you can gain valuable insights and pieces of advice regarding fields you're interested in. Marami kang pwedeng gawin upang mapalago ang iyong professional and social network. For starters, you can attend career fairs, industry events, and even connect with professionals on LinkedIn.
Maximize internships and work experience opportunities
Internships provide a much-needed experience in your desired industry to give you a glimpse of what your future career may entail. While you may have taken an internship before as part of your undergraduate requirements, pursuing another one for the sake of learning and exposure is also a great way to prepare you for your future career. Who knows, you might even be absorbed by your employer if you do well!
Pro-tip: Want to take an internship abroad? Make it happen with Bukas and ITN! Learn more about paid internships.
Related: Internship 101: Here's Where to Start Looking
Step 4: Preparing for Job Search
Preparation is crucial when it comes to finding a job after graduation. Here are some things you can do to prepare for your job search:
Craft a standout resume and cover letter
Resumes and cover letters are essential tools for job applications. It's important to know how to write an effective resume and cover letter that highlight your skills and experiences. 'Wag kalimutang i-proofread ang iyong resume at cover letter bago ito isumite. Makakatulong ang guide na ito sa iyong paggawa ng resume.
Take note of interview techniques
Normal lang kabahan sa interview, lalo na kung hindi mo pa ito nagawa dati. Para mabawasan ang iyong kaba, paghandaan mo ito ng mabuti. Always come prepared for interviews! Research the company and the position you're applying for. Practice common interview questions and think of examples of how you've demonstrated your skills and experiences in the past. You can also do mock interviews with your family and friends so they can give honest feedback on how you can improve.
Maximize job search engines and networking platforms
Job search engines and networking platforms can help you find job opportunities that match your skills and interests. It's important to create a strong profile on these platforms, and tailor your job search according to your preferred industry and location. Maglaan ka ng sapat na oras para pagandahin ang iyong profile sa iba't ibang platforms. Who knows, your future employer might find you in one of those platforms!
Carefully evaluate job offers and salary negotiation
It's important to know your worth, and negotiate for a fair salary and benefits package. Yes, kahit na fresh grad ka pa lang. Bago mo tanggapin ang kahit anong trabaho, mag-research ka muna tungkol sa salary range and industry standard in your target role. Think about your own financial needs, and determine the minimum acceptable salary and benefits that work for you.
Step 5: Learning Financial Literacy
According to our study, only 64.4% of Filipino adults consider themselves financially literate. Take a look at what you should need to know when it comes to financial literacy.
Start with budgeting and saving
As a new graduate entering the workforce, it's important to have a solid understanding of budgeting and saving strategies. Magsimula ka sa paggawa ng sarili mong budget. Ilista mo ang iyong monthly expenses tulad ng rent, utilities, groceries, at transportation. Be sure to also factor in your savings goals, such as building an emergency fund and even saving for retirement. It's never too early!
Build your credit score
Ang iyong credit score ay makakaapekto sa iyong abilidad para maging qualified sa loans at credit cards.To build credit, you can start by applying for a credit card and making on-time payments. You can also consider taking out a small personal loan and making regular payments. Remember to always make payments on time and keep your credit utilization low.
Related: The Pros & Cons of Student, Personal, and Government Loans
Understand tax planning
Knowing how to manage your taxes can help you save money and avoid penalties. Start by understanding the basics of income tax. Learn about tax brackets, deductions, and credits that you may be eligible for. It's also important to keep track of your expenses and income throughout the year to make filing your taxes easier. Maaari ding kumunsulta sa isang tax professional para makasiguradong maayos ang pagka-file mo ng buwis.
Learn the basics of investing, insurance, and retirement planning
Investing can help you grow your wealth and prepare for your future. Alamin ang iba't ibang options for investments katulad ng stocks, bonds, and mutual funds.
Insurance is another important component of financial planning. Pwede kang kumuha ng health insurance, life insurance, at disability insurance to protect you from emergencies and unforeseen incidents.
Additionally, retirement planning is an important aspect of financial literacy that often gets overlooked by young professionals. It's never too early to start planning for your retirement. Research different retirement savings options, and determine how much you should be contributing each year to meet your retirement goals.
Step 6: Investing in your Emotional and Social Skills
Emotional and social skills are critical for success after graduating from college. Note that your emotional and social skills play a big role in how you adjust and thrive in the adulting world. Ito ang ilan sa mga kailangan mong malaman tungkol dito.
Value emotional intelligence
Emotional intelligence refers to the ability to recognize and manage your own emotions, as well as understand and empathize with the emotions of others. Kung wala ito, mahihirapan kang makihalubilo sa iyong mga katrabaho at kaibigan.
Apply stress management strategies
Learning how to manage stress can help you stay focused, calm, and productive. One effective strategy for managing stress is practicing mindfulness. Mindfulness involves being present in the moment, and accepting thoughts and feelings without judgment. Ito ay pwedeng gawin sa pamamagitan ng meditation at deep breathing exercises.
Another helpful strategy is maintaining a healthy work-life balance. This means setting proper healthy boundaries between work and personal time, and prioritizing self-care activities such as exercise, hobbies, and spending time with loved ones.
Build relationships and support systems
Building and maintaining relationships is important because it provides us with connections that allow for support, happiness, and personal growth. Kung papahalagahan mo ang iyong mga mahal sa buhay, mas magiging makabuluhan ang iyong mga karanasan. These close bonds provide us with a sense of belonging, support during challenging times, and opportunities for togetherness, learning, and development in various aspects of our lives.
Navigate workplace culture and politics
Navigating workplace culture and politics can be a challenge, especially for new graduates. Sa pamamagitan ng pag-unawa sa kultura sa trabaho, maaari mong matutunan ang mga tamang asal at mga proseso sa loob ng organisasyon. Don't hesitate to reach out your trusted peers and mentors when navigating challenges at work, especially those who have more experience than you.
Step 7: Pursuing Continuous Learning and Skill Development
Learning never stops! Practicing a growth mindset helps you thrive inside and outside the workplace. It also opens up new opportunities for you as you equip yourself with more skills, both soft skills and technical skills. Here's what you need to know when it comes to skill development after graduating.
Have a lifelong learning mindset
Lifelong learning is essential for personal growth and career development. As industries and technologies continue to evolve, staying updated and adapting to new changes keep you at par, if not ahead, with newjoiners in the workforce.
Having a learning mindset means intentionally seeking out opportunities to learn new skills, whether it be through online courses, workshops, or on-the-job training. Dapat marunong ka rin tumanggap ng constructive criticism dahil makakatulong ito para sa iyong propesyonal and personal na buhay.
Improve soft skills
Soft skills are non-technical skills that are essential for success in the workforce. Some of the commonly sought-after soft skills include good communication, teamwork, adaptability, and problem-solving.
Naghahanap ang mga employer ng mga taong may soft skills dahil mahalaga ito sa pakikipagtulungan at pagresolba ng mga problema sa trabaho. To improve your soft skills, consider taking communication or leadership courses, participating in team-building activities, and actively listening in your daily interactions with other people.
Develop a personal learning plan
Developing a personal learning plan is a great way to ensure that you are continuously developing your skills and knowledge. For starters, alamin mo ang iyong mga career goals at ang mga kailangang abilidad para makamit mo ito. From there, you can set specific and measurable learning objectives that align with your goals. Don't be pressured to pattern your plan based on your peers. Make sure that your learning plan is tailored to fit your interests and timeline. Don't forget to have fun while learning!
Step 8: Prioritizing Health and Well-being
Health is wealth! Without good health and overall well-being, it can be difficult to achieve success in every area of life. Here are some key points to keep in mind when it comes to maintaining your health and well-being after graduating from college.
Take care of your physical health
Maintaining physical health is crucial to your overall well-being. For instance, exercising helps to reduce stress, boost mood, and improve physical health. Mag-ehersisyo nang hindi bababa sa kalahating oras sa isang araw. Eating a balanced and nutritious diet is also important for maintaining physical health. This means consuming a variety of fruits, vegetables, whole grains, lean proteins, and healthy fats. Finally, getting enough sleep can improve energy levels, mood, and overall health.
Prioritize your mental health
Mental health is equally important as physical health when it comes to achieving success in personal and professional life. Poor mental health can lead to a variety of negative outcomes, such as decreased productivity, decreased motivation, and even physical illnesses. Mahalaga din na malaman mo ang mga senyales ng poor mental health tulad ng stress at anxiety. Don't be afraid to ask for help when needed.
Related: How to Help a Classmate Struggling with Mental Health
Apply work-life balance strategies
Maintaining a healthy work-life balance is essential for both physical and mental health. It's important to establish clear boundaries between work and personal time, and prioritize self-care activities. One effective strategy for achieving work-life balance is to establish a routine or schedule that allows for dedicated time for work, hobbies, exercise, and other self-care activities. Makakatulong ito para ikaw ay mas maging organisado at maiwasan ang burnout.
Additionally, learning to say "no" when necessary can help you avoid overcommitting and feeling overwhelmed. Be honest with yourself and others about your limitations and needs, and don't be afraid to delegate tasks or ask for help when necessary. Lastly, magpahinga sa trabaho kung kinakailangan. Take advantage of your vacation leaves and sick leaves. The healthier you are, the more productive you will be at work.
Final Thoughts
Early preparation after graduating from colleege is absolutely essential. It sets the stage for a smoother transition into the real world, equipping you with the necessary skills and knowledge to tackle new challenges as you move forward towards your future.
Ito man ay nakakatakot kung iisipin, 'wag kang mabahala dahil ito rin ay isang exciting na panahon ng buhay mo. Embrace the opportunities that come your way, explore different paths, and never stop learning. Don't forget to believe in yourself, stay determined, and remember that setbacks are just stepping stones towards success. You've got what it takes to thrive beyond school! So, go out there, chase your dreams, and show the world what you're capable of.
Learn more about Grit PH
About Grit PH
Grit PH is one of the fastest-growing online learning platforms in the business and finance space in the Philippines. GritPH helps millions of Filipinos tread the real world's most daunting tasks, empowering a continuously growing community to make informed financial decisions. 
About the Author
MJ de Castro is the lead personal finance columnist at Grit PH. MJ started her career as a writer for her local government's City Information Office. Later on, she became a news anchor on PTV Davao del Norte. Now, she juggles writing professionally, her business centering on women's menstrual health, and surfing.
Learn more about Bukas and how we make education affordable for thousands of Filipino students like you. Apply for a tuition installment plan in your upcoming enrollment, and join our growing community for more tips and advice about all things student life. A brighter future awaits. Sa'yo ang Bukas!